We are here to help you find relief from your chronic neck pain in Collingwood, ON through chiropractic care and massage therapy.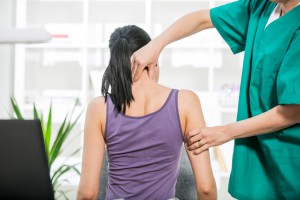 At the end of a long workday or after you wake up from a restless night, you might experience sharp, shooting pains or stiffness in your neck. While this pain might let up after a few days, this neck pain can quickly become burdensome if it is chronic and persistent.
At Collaborative Health Group, we recommend coming into our wellness centre, which serves the Collingwood, Ontario area, about your neck pain if you experience any of the following symptoms:
The pain in your neck does not subside within a few days after it develops.
You cannot move your head from right to left without experiencing severe pain.
You have to rely on over-the-counter medications regularly to make it through your day.
Your neck pain began after you were involved in a car accident.
During your appointment, we will perform a thorough consultation and examination by asking you about the history of your neck pain, your symptoms, and what types of movement make the pain worse and which make it feel better. We will then go over your available treatment options with you and determine what combination of massage therapy, chiropractic care, and acupuncture will provide you with relief.
At Collaborative Health Group, we pride ourselves on our customized approach to patient care and the friendly professionals on our team. To discuss what you can do to relieve your neck pain and how we can help, please give our office a call today.