We appreciate you and how stressful this situation we are in can be and that's why we have implemented the following procedures and policies.
Screening:
You can expect to be screened either over the phone or in person for Covid-19 a positive screening test does NOT mean you are positive for Covid-19, but may necessitate secondary screening and/or testing.
PPE and Masks:
Practitioners will be wearing masks for the entire treatment procedure.  We have made a policy that patients/clients also wear a mask for their safety, the safety of others in the clinic and our staff.  Cloth masks are fine, if you do not have a mask or forget to bring yours we will have some available for a donation to the Collingwood G&M Hospital Foundation.
Appointments:
Please do not arrive prior to your scheduled time.  We have scheduled appointments to optimize physical distancing and allow for enhanced cleaning procedures.  IF you are early give us a call 705-888-9872 or send us an email prior to entering the clinic.
Payment:
We are all set for contactless payment via TAP on your cards and Direct Billing to most major insurance companies.
Physical Distancing:
When in the clinic, endeavour to keep a 6 ft buffer between you and the next person.  We have removed magazines, toys, water coolers and any non-essential items from the waiting room as well as spaced out chairs to respect physical distancing.
Practitioners and Staff:
Staff and practitioners are screened prior to each shift to ensure your safety.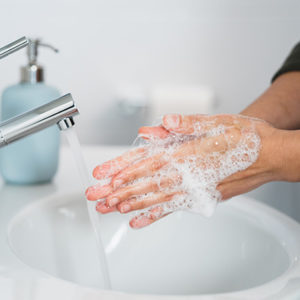 Hygiene and Cleaning:
We have enhanced cleaning protocols for "high touch" and common areas.  We have a full supply of hand sanitizer and ask that you sanitize your hands upon entry and exiting the clinic.  Treatment rooms and clinical equipment are wiped down between each patient/client.
Companions:
Please be mindful of our attempts to keep the clinic safe and limit bringing your spouse, sibling, child etc with you to your appointment if it is not necessary.
Personal Belongings:
Please leave all non-essential personal belongings at home or in your vehicle. Where necessary, place them on the desk/shelf provided for easy sanitation following treatment.
Although things may look, and in some cases feel a little different around the clinic, we are still committed to providing the high level of customer service and compassion you have come to expect from Collaborative Health Group.